First Look: The GAIA Fall 2016 Collection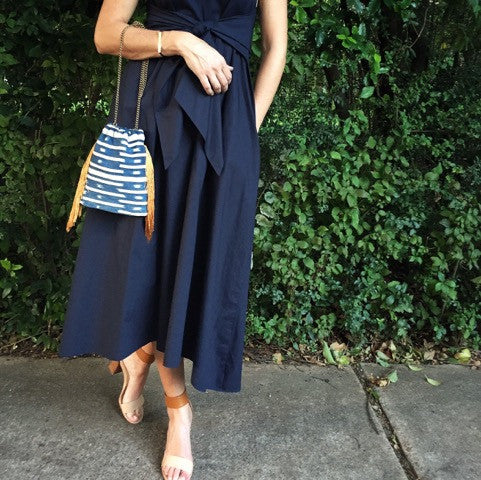 Fall is finally here! We adore fall! The brightly colored leaves, Texas State Fair … and the brief window of time when we're not either burning up and swatting mosquitos or shivering and skidding on icy roads. We also love the changing of the seasons because we get to share a new GAIA collection with you. The GAIA team and refugee women have been very busy these last few months working on new designs and old faves in fresh colors and patterns. 
For starters, let us introduce the Cha Cha. We took our popular Pom Pom bag — still bringing a smile to every face that sees it, including those who spied it in the J.Crew spring 2017 Fashion Week presentation — shrunk it a bit, and replaced the poms with slinky fringe up both sides! It comes in eight styles, made by our refugee women with textiles sourced from Africa and Thailand. The Cha Cha has a chain strap and easy-to-access elastic opening, just like the Pom Pom. She's also like the Pom Pom in that she likes to party … but with a tad more sass! 

Another bag we've been working on is the "Gigi," and she's extra sassy as well. Stay tuned for her debut in the next month or so! 

In the accessories department, our Sunburst earrings with tassels are brand new for fall 2016. They were inspired by dreamcatchers and build on the embroidered earrings that our refugee women were already so skilled at making. These super-lightweight earrings are everyday statement pieces, and they are online now. You'll also find current GAIA favorites — Crescent and Fold-Over clutches, as well as Pom Poms, Roundies, and pouches of all sizes — in new-for-fall textiles scooped up all over the world.

Headed to the site any moment (we hate to make you wait but really wanted to tell you about these goodies!) are pom-pom hair ties and the "Laurel,"  a new necklace collection that takes our fun Cleo tassel necklace to a more refined level. It's an elevated look with a bit of shine — and it definitely belongs on the holiday party circuit
And, finally, one last trick up our sleeve: new text pouches with new sayings! They're not quite ready to go live, but here's a little hint: We thought your "SQUAD"  needed to be told "hello, gorgeous,"  especially if you're all busy "adulting."  Because "you fancy,"  you know? ☺  
Now for the most exciting fall news:  All of this newness and growth has allowed us to do what we're here to do in the first place: provide even more income to more refugee women in our community! We just welcomed a new women to our team; we'll be introducing her soon. She'll hopefully be followed by another refugee woman or two in the very near future — and this is all thanks to you and your support! Though we love, love, love to make handbags and other accessories that you love to wear and that cause your friends to ooh and ahh and ask, "Where did you get that?,"  there is nothing like knowing we're helping women have meaningful work, take care of their families, and transform their lives.
That's Style With Purpose. And that's why we're here.
Paula Minnis