GAIA Attends the Nest<>Hermès Convening in NYC!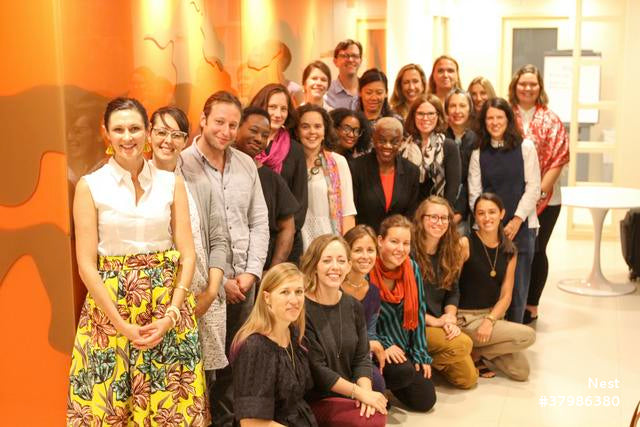 GAIA founder Paula Minnis was invited to attend a three-day Artisan Leadership Summit as a guest of Nest, a nonprofit that builds a new handwork economy to increase global workforce inclusivity, improve women's well-being beyond factories, and preserve important cultural traditions around the world. For this year's summit, guests were invited to learn about all-things Hermès. Paula couldn't wait to get to New York to represent GAIA, meet the talented fellow attendees, and peek behind the brand's orange curtain! But most of all, it was such an amazing opportunity to learn from a 181-year-old brand that has always been true to its core identity.
Paula and fellow artisans and brands (including Dallas' Vickery Trading Company) learned from Nest and Hermès leaders on topics such as brand identity, customer service, distribution, and customer retention. It was truly a hands-on workshop with meaningful takeaways and tricks of the trade. 
Experts in their fields, such as Virginia Nam from the fashion partnership division of Instagram, spoke about telling your story via the social media platform, as well as best practices for branding on Instagram. (We think our Instagram account is pretty worthy of a follow if you ask us!)
Here's the fabulous Nest group at the Hermès store in New York! The visual merchandising manager and store manager gave a private tour before the store opened, and the group learned about visual merchandising, including best practices for color, composition, assortment, and display. Drop by our Dallas store sometime to see how we put our new knowledge to use! 
The group got to have some fun too! Paula and the rest of the Nest gang were invited to the Carré Club, a traveling pop-up that shows off the brand's iconic silk scarf designs and showcases artists from around the world. And we even had a celeb spotting. (Yep, that's Miss Martha Stewart!) 
GAIA founder Paula Minnis even got inked! Don't worry, it was just a temporary tattoo to get in the Hermès spirit. It was so fun to learn from the various artists, as well as shop the pop-up's custom scarf designs.  
On the final day, Paula was invited to share what she learned. Her major takeaways: own your unique identity and vision and stay true to your brand; build a strong framework because the roots of the tree are in place from which all the branches grow; and create a genuine customer experience. Our hope at GAIA is that we enchant you, surprise you, and exceed your expectations, all well helping refugee women earn a living wage. Whether you're shopping online for the perfect bag or popping in the store to say hello, our customer experience is one of our favorite parts of what we do every day. (Just wait until you see what our new "Hospitality Guru" Devin McCrary has implemented already! Hint: super cute packaging and wrapping.)
We couldn't leave New York without an orange bag. Inside were DIY leather keyrings. We do love a craft. (And a keychain of course!) To learn more about Nest, visit their website to see why they're a favorite nonprofit of ours. 
Alyssa Isaguirre