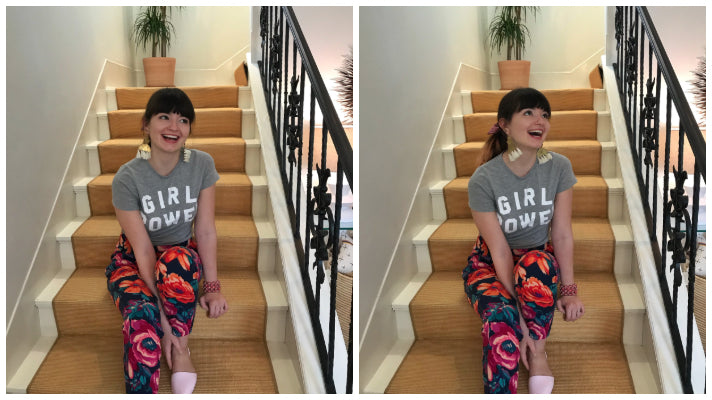 Here at GAIA, our team members are like family. So when someone new comes into the fold, we love to make a warm introduction to our customers—because you're part of our extended family, too! Next time you visit our retail spot in Uptown to shop for your favorite GAIA goodies, our new "Hospitality Guru" Devin McCrary will be the newest face you'll see. (And one with the friendliest smile, clearly!)  There's a reason her secondary title is "Coordinator of Conviviality and GAIA Cottage Affairs." Devin, who has a background in retail, also has a passion for helping refugee women.
The Dallas native embarked on an international journey when she was fresh out of high school. The adventure took her to Rwanda, Peru, and the Middle East, where she worked to help women and young girls who had been abused or oppressed. The avid writer was also keeping a blog at the time about her experience. But that wasn't without its own set of struggles. "We would go into the [Rwandan] slums and do prenatal and postpartum checkups for the women. I realized I lacked the words to describe the women I was meeting in a dignifying way," she says. "To actually sit with another individual on a person-to-person basis, you have to get in the mess and the grayness. How can life be so bad but there still be genuine joy. How do I describe that to an audience who has never had this experience?"
When she got back from her time overseas, Devin knew that she was meant to serve and help others. And that's when she was called to pursue her dream to write. "If you allow experiences like that to change you, you can't not act differently in the world to try to make things better," she says. "That's how I felt afterwards." After a stint in New York, she realized that being a high-powered journalist may not be the right vehicle. She was confused about what her next step was going to be.
One day, she opened up her diary, and there was a card inside from a friend who was working with refugees. "It made no sense why the card was supposed to be in there," she says. She picked up the phone and called him, and he soon introduced her to a community that helped pregnant refugee women. She moved back home to pursue her degree, and that fateful conversation led her to serve and befriend many refugee women. While working at Commerce in The Adolphus, Devin learned about GAIA's mission to empower women through employment, encouragement, and dedication to their long-term success in the community. She met with founder Paula Minnis, and they hit it off.
Now Devin will help with the retail store and all aspects of the GAIA brand. "Working with GAIA has been so meaningful because it's just being a part of something and doing something to help," she says.
Here's a little more about Devin.
Favorite read: The New Yorker
Favorite listen: Serial and This American Life. I have a crush on Ira Glass. He is a very encouraging human.
Favorite workout: Climbing. I boulder and I climb top-rope. It's like a sport for people who are bad at exercising.
Favorite spot for coffee in Dallas: Davis Street Espresso. I love going there in the mornings when the sun is rising.
Favorite place to shop: Buffalo Exchange. I can get a bunch of cute vintage things there.
Favorite colors: I jam out to floral patterns, cobalt blue, and pastel pink.
Favorite item at GAIA right now: The scrunchies. They are so cute!
Favorite quote: "We live in a world in which we need to share responsibility. It's easy to say 'It's not my child, not my community, not my world, not my problem.' Then there are those who see the need and respond. I consider those people my heroes." - Mr. Rogers
What are you most looking forward to about working at GAIA? I think what I have to offer is bringing the humanness and the humanity of what we're serving. It all [GAIA] started with a friendship where one person saw the other person had needs. I'm really good at focusing on humans and expressing those connections with other people.
What do you want others to know about refugee women? Beyond cultural divide, they are normal people that have the same feelings that you have. They feel the same joy and the same fear and they want to be accepted just like everyone wants to be accepted.
Continue reading