GAIA Office Tour + Meet Our Team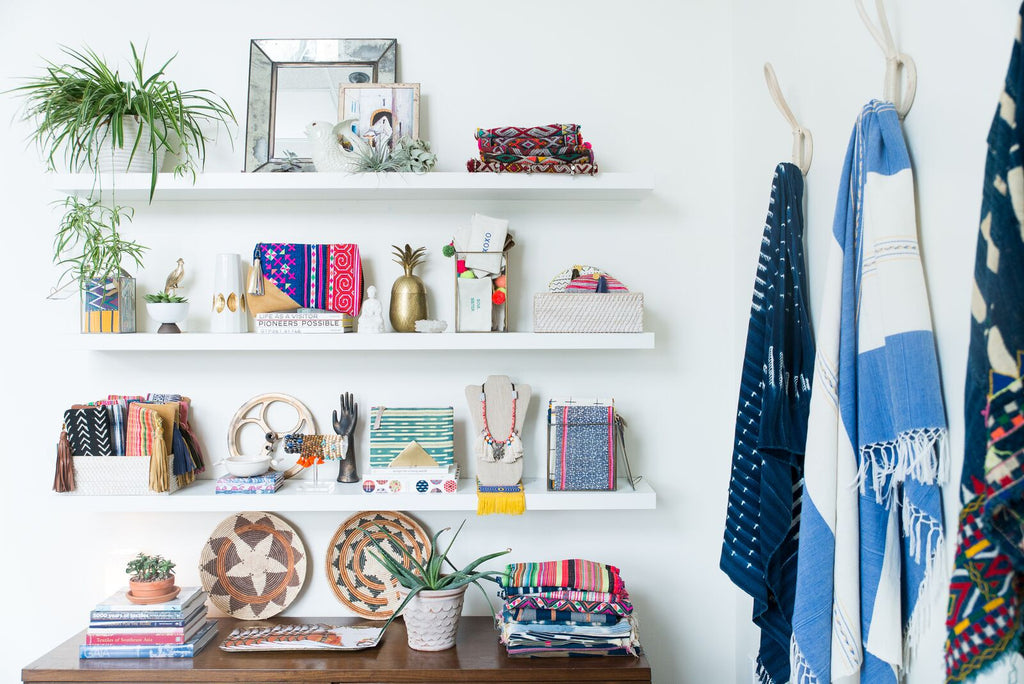 Step into GAIA headquarters, and you're stepping into a showroom, office, and workshop all in one. 
The first things you see are the colorful, handmade fashion and home accessories crafted by the refugee women the company employs. Shelves of clutches, bins of pouches, trays of bracelets, and racks of beaded and tassel necklaces are as enticing to fashion-loving women as candy is to kids.  
Just beyond the showroom is a space filled with the tools the team needs to take every product from cool idea to ready-to-sell. Raw materials are stacked floor to warehouse-high ceiling along one wall; two huge worktables made of door blanks and IKEA cubbies provide places for measuring and cutting textiles. Some desks hold sewing machines, others have iMacs and laptops.  
The experience is a bit like being in a taffy factory — where you can see sweet things coming together right before your eyes and leave with something wonderful, whether it's a Pom Pom bag in your hand or a good feeling in your heart.
The women employed here agree: A lot of hard work takes place at GAIA — and lot of joy too!
"GAIA is where we are today because of our stellar team," says founder Paula Minnis. "They're the ones who get it all done. Their passion for serving others and dedication to the GAIA refugee women is truly remarkable — and a constant inspiration to me! Creating brighter futures and empowering women are all in a day's work for these gals."
Let's meet the ladies who — along with Paula — make the magic happen.
Name: Lauren Jarrett
Postion: Director of Operations
Length of time at GAIA? September marks my five-year GAIA-versary!
Describe a typical workday in six words.
Emails, textiles, women, planning, strategizing, celebrating.
What's one thing you've learned at GAIA?
The way we (Americans) do things, think about things, and act on things is largely American. Our ways are not necessarily the universal ways or even the best ways. That's a pretty obvious statement, but working with women from such varying cultures, all of whom have differing customs, communication tactics, expectations, and needs (not to mention languages!), has made me realize just how deeply rooted my assumptions based on my American upbringing are. The same goes for the refugee women and their cultural norms. They experience this conundrum on an even larger scale, as they try to decode and function in the Western world. Certain cultural differences are obvious and therefore easily navigable. But as culturally sensitive and aware as I think I am, I am constantly confronted with challenges derived from crossed wires: things I assume to be universally understood that are purely Western, or things the women perceive as normal that are interpreted entirely differently by my American self. Though our differences can make conducting business and getting on the same page a challenge, it is always interesting and stimulating to me. I've traveled quite a bit in my personal life, but it's safe to say I've had more of an international experience while living in Dallas!
What's the most fun you've ever had at work?
That's a hard one… We laugh a lot. Our home team really enjoys each other, but I think we would all say that our favorite moments involve the women. Visiting Catherin and her precious wee ones makes my face hurt from smiling so big and my heart feel so full! Visiting Maria is always hilarious — she's a total ham. My favorite days in the office are Wednesdays and Thursdays when Huda and Bothina come sew at GAIA HQ. They bring this humble joy with them that is contagious. 
Morning drink? 
I always arrive with hot black tea — summer heat or not! My dad is Irish and English, so tea is a given.
Afternoon habit? 
My hubby makes me an iced Americano with almond milk before work every morning. It is my lifeblood come 3 p.m.
Name: Alyssa Foreman (also know as "Ace" or "Al")
Postion: Production and Development Manager 
Length of time at GAIA? A little over a year.
Describe a typical workday in six words. 
Textiles, refugees, singing, handwritten notes, inventory.
What's one thing you've learned at GAIA?
GAIA has taught me so much and has changed my life perspective in many ways. The most important lesson I have learned has been that circumstances shouldn't determine someone's worth or future. Resiliency is dependent upon one's hard work and perseverance — and the support and love they receive from those around them. Being surrounded by brave women who have overcome life's worst occurrences has taught me to be strong, thankful, accepting of others, and to never give up. 
What's the most fun you've ever had at work?
I have two favorite/fun activities. I absolutely love when the GAIA gals dream and strategize about the future of GAIA. It is so exciting to see where we have come from and the potential we can achieve. Secondly, I love spending time with the women! It is always a party when Bothina and Huda come to the office. It feels less like work and more like girl time. Also, one of my most fun moments was when I was picking up finished products from Latifa, and my quick pick-up turned into a full-blown breakfast with her. She makes the best morning bread! 
Morning drink? 
Every morning I come in with a coffee and green smoothie in hand. 
Afternoon habit?
Eating an apple with peanut butter or grabbing a coffee.
Name: Lauren "Huddy" Huddleston
Position: Jewelry Specialist 
How long have you worked at GAIA? Six months.
Describe a typical workday in six words. 
It's not work if I'm having fun! (OK, that was seven.)
What's one thing you've learned at GAIA? 
GAIA has taught me to reach out of my comfort zone creatively and socially. I create jewelry while incorporating textiles. And using a sewing machine? I'm still working on that part! 
What's the most fun you've ever had at work?
Every day is fun at GAIA because I have made such great friends here. Recently, I was working with Feza, and her children, Adija and John Michael, came downstairs to visit with me. We talked about how nervous they were to go into kindergarten and fourth grade. They are so cute, and hearing their funny stories about school always makes my week! 
Morning drink?
I love a berry La Croix, but sometimes I have a coffee with a lot of hazelnut sweetener! 
Afternoon habit?
I crave something athletic to reboot my brain. It makes me more productive for the afternoon. 
Name: Johnna Sheppard
Postion: Production Specialist
Length of time at GAIA: One month.
Describe a typical workday in six words. 
Implementing new systems; learning the ropes! 
What's one thing you've learned at GAIA? 
I'm learning so much about GAIA — the products, textiles, production, etc. What I value most is learning about the refugee women, their personal stories, and their culture. 
What's the most fun you've ever had at work? 
One of the best parts of working at GAIA is being around the people I work with. 
Morning drink?
Coffee.
Afternoon habit? 
I like a La Croix in the afternoon — love the bubbles. 
Curious about the refugee women who work at GAIA? We thought you might be. 
Paula Minnis