Paula's Guatemalan Adventure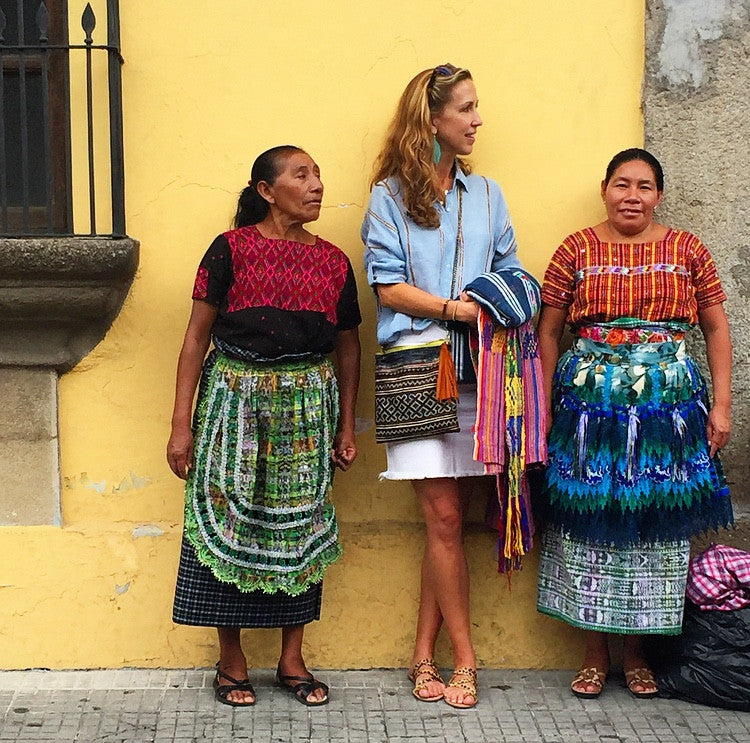 Next month marks one year ago that I traveled to Guatemala. Since GAIA didn't have a blog at that time, I figured the anniversary of that trip would be a good opportunity to do a little "throwback"  and tell you all about my time in that beautiful country!
In search of a new travel experience, my sister-in-law, Yana, and I headed to Guatemala last October for a week of adventure, nature, and culture. And, of course, since Guatemala is known for its rich textile heritage, I knew I could mix a little business with pleasure and do some sourcing for our brand.
Yana and I were traveling with BikeHike Adventures, a group that organizes sightseeing, outdoor activities, and cultural immersion for vacationers. We had taken a trip they organized to Morocco the year prior (blog post about that soon, hopefully!) and the highly cultural aspect of both trips — the opportunity to spend meaningful time with the indigenous people of those areas — was the highlight for me.  
Another feature of the trip that drew me in was the opportunity to get outside of my comfort zone — hence, the "adventure"  portion of the experience! This included kayaking, hiking, and biking through the Guatemalan highlands … and it may as well have included wood chopping, because those activities are definitely not part of my normal day-to-day life. In other words, I am very "indoorsy."
However, after every mountain pass climbed and village road biked, I was rewarded with stunning views of one of the most picturesque countries I've ever visited. Kayaking through the turquoise waters of Lake Atitlan, surrounded by volcanoes, was an otherworldly experience. The gratification and sense of accomplishment at the end of the day filled me up, reminding me that I'm capable of pushing myself past my limits and can actually do physical activity for longer than 30 minutes on a treadmill. The "outdoorsy" thing is pretty good for the soul; if you haven't tried it lately, I highly recommend it. ;)
 And then there was the culture! Throughout the week, we traveled through various villages, visiting local markets and meeting the kindest people. One evening we were hosted overnight by a fifth-generation family of textile weavers, who even gave me a little lesson on their 95-year-old loom. Thankfully, I didn't break it!
Another afternoon we found ourselves in a remote dusty village, enjoying a hearty lunch served by a local Quecki family in their home. At each of the visits, I purchased some of the family's handwoven textiles to take home. Weaving is a deeply revered tradition in Guatemala, with men typically working on the larger foot looms and women weaving on backstrap looms, often spending multiple hours or even days on the creation of one piece.
We also traveled to the open-air market in Chichicastenango, one of the largest flea markets in Latin America. I was in utter textile heaven, so allowed myself to go a little nuts. I stocked up on patterned cloths, bedspreads, wall hangings, and more. Many of the pieces scored there have been transformed by our refugee women into gorgeous pillows, clutches, and pouches, most of which sold out pretty quickly!
Fortunately, I was able to make a local connection with Jess at Stela 9, who has since made a few market runs to help us replenish when we needed to. I was lucky to meet several other American expat women (thanks, Instagram!) and fellow social entrepreneurs who have created inspiring businesses of their own, employing local artisans to create their beautiful collections. You must check out my friend Molly's work at Luna Zorro, and Uxibal, which is run by my friend Britini!
I also found some special textile pieces entirely by chance. One afternoon, Yana and I were wandering the cobblestone streets of Antigua (the most charming colonial city with stunning Spanish architecture) and happened upon two women tucked in a little alcove off the sidewalk, surrounded by stacks and stacks of textiles. I could've spent all day there, sorting through the fabric, chatting, and learning about the lives of these lovely women (that's them in the top photo and below!). One of the pieces — a length of indigo jaspe corte (which I'm holding in the pic) — bought during that warm encounter hangs in the GAIA showroom, still a favorite reminder of my trip. 
Overall, it was truly an unforgettable experience. Now I'm itching to go back!
XO,
Paula Minnis