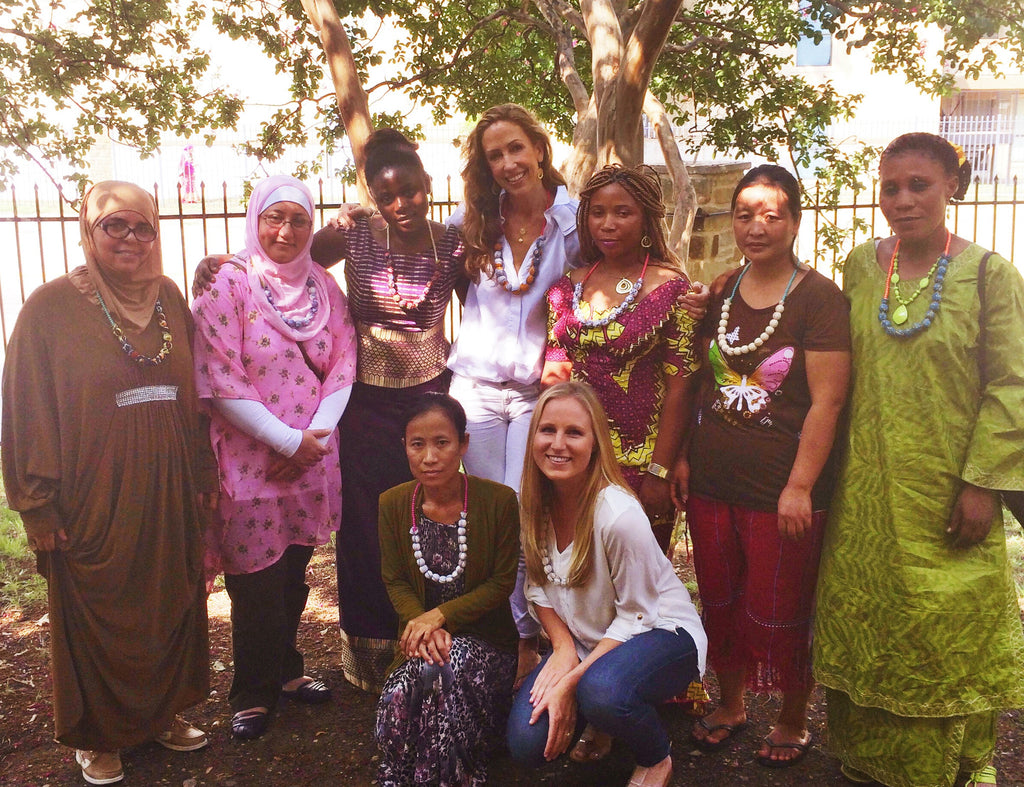 Welcome to our first (and way overdue) GAIA blog post!
In the almost six years since founding GAIA, blogging just never made it very high on my priority list. However, if there ever was a business that needed a blog, it's GAIA! A blog is for sharing stories, and the "story" of GAIA is pretty important — it's why we're here, after all.
GAIA Empowered Women was founded to create brighter futures for refugee women resettled in the United States. We exist to help refugees rebuild their lives in our community through dignified work — but not just any work — the meaningful, fulfilling kind that pays a living wage. We aim to pave a path to self-sufficiency and financial independence so refugee women and their families can flourish in their new home.
Bottom line: We're helping refugees change their stories for the better.  
And what better way to do it, than through fashion?! Fashion is fun, uplifting, and transformative in so many ways. It can make you feel beautiful, confident, and the best version of yourself. But how much more meaningful does fashion become when you know the story of the person whose hands crafted it — and whose life was positively affected as a result of your purchase?
These are the stories we aim to share. We'll also tell you about our design inspiration and process, collaborations, and other cool news. But the most important stories — the ones that will stay with you and warm your heart — are about the women we employ. 
We'll introduce you to Catherin, a Burmese refugee I began mentoring in 2009, whose remarkable spirit and gentle strength inspired me to create GAIA in the first place (we started with cloth napkins!).
You'll meet Feza, who spent 15 years living in multiple refugee camps across Africa after fleeing violence in the Democratic Republic of the Congo. She now drives her children to school every day, and finds absolute joy in it. (Moms, if this won't make you think twice about carpool complaints …)
We'll tell you all about Latifa, who arrived to the United States from Iraq in 2010, stoic and shell-shocked. Cut to five years later: We're watching (and weeping) as she takes her oath to become a United States citizen!
You'll also get to know Bothina and Huda, Syrian refugees who endured a horrific journey that would break even the strongest o us, yet they remain positive and gracious as they come to work every day in the GAIA studio. There's a lot of laughter shared at the studio with these gals; I think they crack up the most at the goofy antics of the GAIA staff (whom you'll meet as well!)
Each of these brave women's experiences before arriving to the United States was traumatic — and unfathomable to most of us. Out of 21 million refugees worldwide, they were part of the 1 percent fortunate enough to be officially resettled. Then they faced the daunting task of adjusting to life in a new country — completely starting over — with some learning to use a stove, elevator, or ATM for the first time. Oh, the things we take for granted! Their faith and optimism throughout it all never ceases to amaze me. It is truly humbling to work alongside these resilient women, and I'm a better person for knowing them. 
I can't wait to help you get to know them as well.
XO,
Paula Minnis